Home Improvement - Roofing Book Review:


Roofing

Roofing Instant Answers
by Terry Kennedy

Paperback: 500 pages ; Dimensions (in inches): 1.41 x 8.10 x 5.12
Publisher: McGraw-Hill Professional; 1st edition (April 19, 2002)
ISBN: 0071387129

A highly portable (5 x 8) quick tab reference system brimming with all of the graphics and readily understood tables needed for fast, on-the-job references. The author includes a mix of text and graphics in a way that will empower readers to solve problems quickly, effectively, and economically.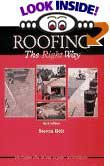 Roofing The Right Way
by Steven Bolt

Paperback: 416 pages ; Dimensions (in inches): 0.63 x 9.24 x 7.39
Publisher: McGraw-Hill Professional; 3rd edition (November 1, 1996)
ISBN: 0070066507

If you're one of the 23 million families in America whose homes are more than 50 years old, this is definitely a must read... gives you a complete rundown of what to look for when inspecting your roof, what materials are available-there are lots of new ones-and how to do the job yourself... There are plenty of good black-and-white photos and diagrams to help you understand the techniques of installing a roof.


Roofing With Asphalt Shingles (For Pros by Pros)
by Mike Guertin

Paperback: 176 pages ; Dimensions (in inches): 0.53 x 10.84 x 8.52
Publisher: Taunton Pr; (October 2002)
ISBN: 1561585319

Asphalt is the most common roofing material in North America. With 65 drawings and over 200 color photographs, this book is an in-depth guide to working with it -- whether the reader is a professional installing a brand-new roof or a do-it-yourselfer simply making necessary repairs.

The Slate Roof Bible: Everything You Wanted to Know About Slate Roofs Including How to Keep Them Alive for Centuries
by Joseph Jenkins

Paperback: 296 pages ; Dimensions (in inches): 0.82 x 11.12 x 8.55
Publisher: Chelsea Green Pub Co; (July 1997)
ISBN: 0964425807

Jenkins Publishing is proud to announce that The Slate Roof Bible was presented with the prestigious National Roofing Contractors Association 2001 GOLD CIRCLE AWARD FOR EXCELLENCE IN THE ROOFING INDUSTRY. One such award is given annually within the 4,700-member international trade association in the "SERVICE TO THE INDUSTRY" category.