Home Improvement - Estimating Book Review:


Estimating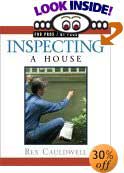 Inspecting a House
by Rex Cauldwell

Paperback: 224 pages ; Dimensions (in inches): 0.63 x 9.92 x 7.96
Publisher: Taunton Pr; (December 31, 2000)
ISBN: 1561584622

Presents a logical sequence of inspection and tells what to look for when evaluating heating, electrical and plumbing systems, and inspecting roofs, gutters, flashing, windows and doors, garages and driveways, foundations, and various rooms of a house. Useful as a reference for home inspectors, home sellers, home buyers, and realtors. Contains color photos illustrating problems on every page, plus many checklists. Cauldwell is a building inspector and licensed general contractor with 25 years of experience. He is a frequent contributor to Fine Homebuilding magazine.


F.R. Walker's Remodeling Reference Book: A Guide for Accurate Remodeling Cost Estimates for Construction Professionals and Homeowners
by Harry Hardenbrook, Robert S. Siddens (Editor), P. J. Sammartino (Editor)

Paperback: 340 pages
Publisher: Frank R Walker; 3rd edition (October 1, 1998)
ISBN: 0911592628

A comphrensive guide to estimating remodeling jobs from the construction industry's leading publisher since 1915. Approaches remodeling estimates step by step-- figuring the labor costs to remove old installations; figuring the amount of material needed for new installations; and estimating the labor costs to complete such installations. With quick reference cost tables, this book is a must for everyone involved in remodeling; and it's useful for homeowners who intend to oversee projects on their residences. It contains 17 chapters covering interior and exterior residential remodeling. You get detailed information on: Kitchens; Baths; Room Conversions; Decks and Porches; Stairways and Flooring; Interior and Exterior Painting; Electrical; Roofing and Siding; Windows and Doors and more.


Plumbing Estimating Methods: Includes Standard Plumbing & Fire Protection Systems, Special Systems Such As Medical Gas & Glass Piping
by Joseph J. Galeno, Sheldon T. Greene

Paperback: 330 pages ; Dimensions (in inches): 0.97 x 10.86 x 8.40
Publisher: Robert s Means Co; 2nd edition (August 1999)
ISBN: 0876295367

This practical guide walks the reader through a plumbing estimate, from basic materials and installation methods through change order analysis. In addition to standard plumbing and fire protection systems, the authors cover more sophisticated systems, such as glass piping for acid waste. The book also provides forms, checklists, sample drawings, both negotiated and competitive bids, and covers renovations, as well as many other issues in plumbing estimates.