Home Improvement - Home Repair Book Review:


Home Repair

100 Things You Don't Need a Man For
by Alison Jenkins

Paperback: 192 pages ; Dimensions (in inches): 0.77 x 9.05 x 8.58
Publisher: Laurel Glen; (September 18, 2001)
ISBN: 157145537X

This book takes the intimidation out of homeownership for countless women. Readers will learn the bare essentials of a working tool kit and be inspired to try their hand at everything from fixing plumbing and electrical outlets to hanging pictures and doors. The book's step-by-step, illustrated techniques will provide confidence from the ground up, coaching readers through repairs and basic construction. From the installation of flooring (baseboards, molding, tiles, linoleum, tile repair, stripping and staining) to building (changing the direction a door swings, tiling a shower, making cabinets for the kitchen, bath or storage), it's all included. Decorative shortcuts and tips on when and how to negotiate for help complete this practical and supportive right hand reference.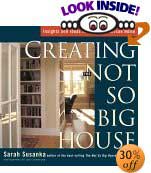 Creating the Not So Big House: Insights and Ideas for the New American Home
by Sarah Susanka, Grey Crawford (Photographer)

Hardcover: 264 pages ; Dimensions (in inches): 0.91 x 10.22 x 10.24
Publisher: Taunton Pr; (October 1, 2000)
ISBN: 1561583774

Susanka selected house plans that are available for sale, because her purpose is to make affordable quality housing accessible to the general public, but they're also presented as catalysts for your own designs, because the house that worked for one person might inspire the plan that would work best for you. Whether you're in the market for a new house, want pragmatic renovation ideas, or are interested in the concept of space-saving abodes from a city-planning, philosophical perspective, Susanka's book is an eye-opener and a mind-expander, providing conceptual and practical tools to assist you in planning your own livable home. --Stephanie Gold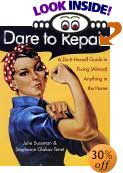 Dare to Repair: A Do-It-Herself Guide to Fixing (Almost) Anything in the Home
by Julie Sussman, Stephanie Glakas-Tenet, Yeorgos Lampathakis (Illustrator), Linda C. Fuller

Paperback: 272 pages ; Dimensions (in inches): 0.85 x 9.18 x 7.36
Publisher: HarperResource; 1st edition (September 3, 2002)
ISBN: 0060959843

There are people in this world who take every plumbing leak and every clogged drain as a personal challenge. Then there are others who dial 911 when a toilet starts to run over. To stop the monetary damages, Sussman and Glakas-Tenet put together a "dummy's" guide to common repairs that usually flummox a beginner. Everything's explained in exquisite detail: tools, labeled and illustrated; steps, pictured realistically. The five major chapters--plumbing; electricity; major appliances; windows, walls, and doors; home safety--deal with 75 simple fix-its, ranging from replacing toilet seats to freeing a stuck window. Plus, words of encouragement accompany every task, certainly enough to convince anyone to pick up a pliers and twist. Barbara Jacobs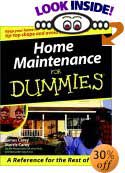 Home Maintenance for Dummies®
by James Carey (Author), Morris Carey (Author)

Paperback: 384 pages ; Dimensions (in inches): 1.08 x 9.21 x 7.43
Publisher: John Wiley & Sons; (April 2000)
ISBN: 0764552155

In Home Maintenance For Dummies, readers will find out how to prevent costly repairs and safety hazards with handy calendars and checklists that will ensure nothing falls through the cracks -- including the cracks! Home Maintenance For Dummies covers everything from plumbing to painting with special tips on preparing for freezing winter conditions and sizzling summer days.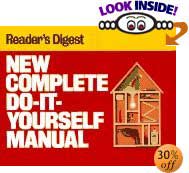 New Complete Do-It-Yourself Manual
by Reader's Digest

Hardcover: 528 pages ; Dimensions (in inches): 1.37 x 8.70 x 10.96
Publisher: Reader's Digest Adult; Reissue edition (September 1, 1991)
ISBN: 0895773783

Here is the book that will set a new standard for do-it-yourself in the 1990s--replacing the classic bestseller that started America's Do-It-Yourself revolution two decades ago. New tools, materials, techniques, standards, and energy-saving tips have necessitated this completely redone reference. 4,000 illustrations, 3,000 in full color. Size D. (Do-It-Yourself / Home Improvement)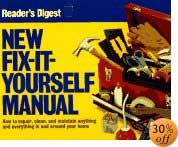 New Fix-It-Yourself Manual
by Reader's Digest

Hardcover: 448 pages ; Dimensions (in inches): 1.47 x 8.65 x 11.06
Publisher: Reader's Digest Adult; (October 1996)
ISBN: 0895778718

In more than 3,000 instructional photos, illustrations, charts and diagrams, the New Fix-it-Yourself Manual shows you how to troubleshoot faulty appliances, repair them, and put them back together so they work as good as new. It gives you the same essential information on furniture and other household items as well, providing homeowners with precisely the time- and money-saver they need. 1,030 full-color photos.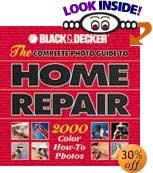 The Complete Photo Guide to Home Repair: 2000 Color How-To Photos

Hardcover: 512 pages ; Dimensions (in inches): 1.27 x 10.28 x 10.32
Publisher: Creative Publishing International; Book and CD-ROM edition (August 1999)
ISBN: 0865737533

Master carpenters, plumbers, electricians, and other contractors contributed their expertise to this up-to-date guide to important home improvements, from patching cracks in a basement floor to replacing a roof. For each project they provide detailed how-to instructions, complete tools and materials lists, helpful hints, and troubleshooting charts. Topics include interior, exterior, and systems repairs. Contains about 2,000 color illustrations and a maintenance checklist for the entire home.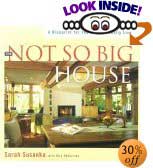 The Not So Big House: A Blueprint for the Way We Really Live
by Sarah Susanka, Kira Obolensky (Contributor)

Hardcover: 199 pages ; Dimensions (in inches): 0.75 x 10.28 x 10.30
Publisher: Taunton Pr; (August 28, 1998)
ISBN: 1561581305

Sarah Susanka contends that people are naturally drawn to intimate spaces. Large structures inspired by outdated patterns tend to result in houses that just don't work. In The Not So Big House, she proposes clear guidelines for creating homes that serve spiritual needs as well as material requirements. Topics covered include designing for specific lifestyles, budgeting, building a home from scratch, and using energy-efficient construction. With more than 200 color photographs as well as floor plans, the book is perfect for homeowners ready to rethink their space. "Susanka says to evaluate what makes you feel at home and let your activities define your rooms."


Clean House, Clean Planet: Clean Your House for Pennies a Day, the Safe, Nontoxic Way
by Karen Noonan Logan

Paperback: 288 pages ; Dimensions (in inches): 0.77 x 8.21 x 5.34
Publisher: Pocket Books; (April 1997)
ISBN: 0671535951

Explains how to make and use environmentally friendly and inexpensive household cleaners out of everyday ingredients, offering advice on how to do everything from cleaning the oven to unclogging the sink.


The Virgin Homeowner: The Essential Guide to Owning, Maintaining, and Surviving Your Home
by Janice Papolos

Paperback: 444 pages ; Dimensions (in inches): 0.98 x 7.99 x 5.34
Publisher: Penguin USA (Paper); (March 1999)
ISBN: 0140274766

The Virgin Homeowner is Janice Papolos's answer to the house buyer's blues. Using her own experience, Papolos initiates readers into all the workings of a house. She moves from the initial terror of home inspection to the mysteries of plumbing and electricity, stopping at all points along the way--including septic systems, roofing problems, insect infestations, environmental issues, childproofing, ventilation, and fire safety. In addition, Papolos offers clear instructions on how to handle minor household repairs and helps the new homeowner to understand the quirky vocabulary essential for having an intelligent conversation with a repair person or contractor. Best of all, The Virgin Homeowner provides readers with the confidence and piece of mind they need to make owning a home more of a dream and less of a nightmare.