Home Improvement - Furniture Book Review:


Furniture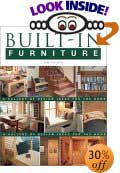 Built-In Furniture (Idea Book)
by Jim Tolpin

Paperback: 224 pages ; Dimensions (in inches): 0.56 x 10.88 x 9.02
Publisher: Taunton Pr; (February 14, 2001)
ISBN: 1561583952

Built-in furniture offers all kinds of benefits, both practical and aesthetic, but the design and construction can be intimidating. Cabinetmaker and best-selling author Jim Tolpin demystifies both processes in this combination of inspirational guide and how-to manual. The book starts with the basics of designing built-ins and the principles behind the construction, showing how to harmonize permanent furniture into its environment. Projects run the gamut, from window seats, benches, and couches, to bookcases, cupboards, and cabinets.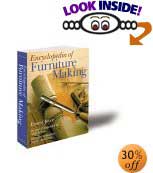 Encyclopedia of Furniture Making
by Ernest Joyce, Alan Peters, Patrick Spielman (Contributor), Joyce Ernest

Paperback: 519 pages ; Dimensions (in inches): 1.47 x 9.27 x 7.28
Publisher: Sterling Publications; 0 edition (1987)
ISBN: 0806971428

It's been the number one book on the subject for most of the 20th century, the encyclopedia that brings together the latest information on all the tools, techniques, and processes involved in crafting furniture--all illustrated with plenty of photographs, drawings, and diagrams. Among the hundreds of subjects covered are hand and portable electric tools; drawing equipment; wood growth; and wood grains, textures, durability, defects, and diseases. Almost every type of jointing operation is here, along with guidelines for fashioning plinths, cornices, legs, underframings, drawers and more...

Furnishing Forward: A Practical Guide to Furnishing for a Lifetime
by Sheila Bridges, Anna Williams (Photographer)

Hardcover: 182 pages ; Dimensions (in inches): 0.78 x 10.46 x 9.36
Publisher: Little Brown & Company; 1st edition (May 2002)
ISBN: 0821226991

Sheila Bridges shares both professional and personal anecdotes as well as lots of solid information to help home and apartment dwellers make the transition from Ikea to eclectic, from milk crates to furniture that will endure for years. Furnishing Forward guides the reader through finding and implementing a personal style within a realistic budget, with advice on where and how to shop for quality pieces as well as working with design professionals to create the look you want. With its witty narrative tone and its design-by-personality-type approach, no other decorating book is as useful for a younger audience while displaying a timeless style.

Furniture Repair & Refinishing
by Brian D. Hingley, Timothy O. Bakke (Editor)

Paperback: 240 pages ; Dimensions (in inches): 0.52 x 10.86 x 8.50
Publisher: Creative Homeowner Press; (July 1998)
ISBN: 1580110061

From structural repairs to restoring older finishes or entirely refinishing furniture: a hands-on step-by-step approach to furniture repair and restoration, presented by an expert in the field. More than 430 color photographs and 60 full-color drawings.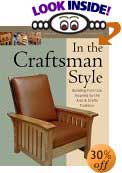 In the Craftsman Style: Building Furniture Inspired by the Arts & Crafts Tradition
by Fine Woodworking (Editor), Tim Schreiner (Introduction)

Paperback: 176 pages ; Dimensions (in inches): 0.49 x 10.89 x 8.54
Publisher: Taunton Pr; (February 14, 2001)
ISBN: 1561583987

The Arts and Crafts style is simple enough to look good in almost any home and works with many types of furniture. Encompassing the Craftsman, Mission, Greene and Greene, and Stickley styles, this book gives readers detailed instructions for creating Arts and Crafts pieces at all levels. Step-by-step photographs and illustrations walk them through the process of building a classic Arts and Crafts chair, bookcase, sideboard, blanket chest, clock, and mantel, among other pieces. Photos of finished pieces provide additional inspiration.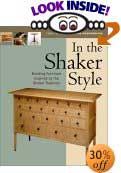 In the Shaker Style: Building Furniture Inspired by the Shaker Tradition
by Tim Schreiner (Introduction)

Paperback: 160 pages ; Dimensions (in inches): 0.44 x 10.88 x 8.53
Publisher: Taunton Pr; (February 14, 2001)
ISBN: 1561583960

The Shakers wanted their belongings to reflect the simplicity and perfection revered in their religion. Their furniture, with its clean lines and attention to detail, is still the most popular style of furniture more than a century after it was first designed. This book walks readers through a variety of Shaker-inspired projects ranging from beginning to advanced. It provides an overview of hallmark Shaker details, illustrated step-by-step instructions, and a gallery of photographs of successful projects.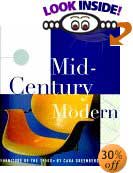 Mid-Century Modern: Furniture of the 1950s
by Cara Greenberg, Tim Street-Porter (Photographer)

Paperback: ; Dimensions (in inches): 0.44 x 9.88 x 9.85
Publisher: Harmony Books; (September 1995)
ISBN: 0517884755

Taking full advantage of the ressurgence in popularity of retro-fifties design, this highly praised book lets the reader rediscover the wonders of boomerang-shaped coffee tables, the funky curvaciousness of biomorphic furniture, the industrial sleekness of cool metals, unusual angles, and other design delights. Photos.

Painted Furniture : Decorating Ideas & Projects
by Better Homes and Gardens Books (Editor)

Paperback: 112 pages ; Dimensions (in inches): 0.30 x 10.94 x 8.12
Publisher: Meredith Books; 1st edition (August 2001)
ISBN: 069621198X

Anyone can transform vintage bargains and unfinished pieces into eye-catching works of art with the easy techniques and imaginative designs in Painted Furniture: Decorating Ideas & Projects, published by Better Homes and Gardens (R).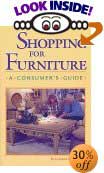 Shopping for Furniture: A Consumer's Guide
by Leonard Bruce Lewin, James Goold (Illustrator)

Paperback: 160 pages ; Dimensions (in inches): 0.41 x 9.00 x 6.00
Publisher: Linden Publishing; (October 1998)
ISBN: 0941936392

Mr. Lewin's guide was the most complete source I could find covering everything from different types of raw materials used in making furniture to how to buy from retailers. He has amassed a wealth of knowledge in his 36 years in the business and shares the information in an enjoyable manner. He covers topics such as veneering and leather quality with such finesse that the average person comes away feeling like an expert...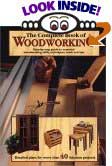 The Complete Book of Woodworking: Detailed Plans for More Than 40 Fabulous Projects

Hardcover: 480 pages ; Dimensions (in inches): 1.43 x 10.70 x 8.66
Publisher: Landauer Corporation; (March 15, 2002)
ISBN: 1890621358

This is a step-by-step guide to essential woodworking skills, techniques, tools and tips. For the beginning woodworker or the most experienced hobbyist, this book is of incredible value to all. This book takes the reader from the principles of basic design to essential woodworking techniques to a gallery of 40 complete project plans. More than 1200 full-color photos are included in this book with tips for shop set-up and safety, how to use tools, make jigs and joints, applying finishes and wood selection.


The Complete Illustrated Guide to Furniture and Cabinet Construction
by Andy Rae

Hardcover: 308 pages ; Dimensions (in inches): 1.02 x 11.18 x 9.40
Publisher: Taunton Pr; (October 15, 2001)
ISBN: 1561584029

The Complete Illustrated Guide to Furniture and Cabinet Construction is the ultimate reference work -- a graphic, step-by-step presentation of basic furniture-construction techniques. Expert woodworker Andy Rae brings organization, enthusiasm, and more than 20 years' experience to this essential book. Readers will acquire a working knowledge of woodworking materials, a higher level of control over their work and tools, and an understanding of basic design principles.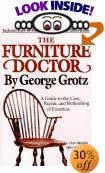 The Furniture Doctor
by George Grotz

Paperback: 366 pages ; Dimensions (in inches): 1.02 x 8.17 x 5.38
Publisher: Doubleday; (December 18, 1989)
ISBN: 0385266707

The best-selling guide to keeping furniture in the finest and most beautiful condition, with complete information on proper repair and refinishing techniques from the legendary expert on antiques and their restoration.