Home Improvement - Power Tools Book Review:


Power Tools

Classic Joints with Power Tools
by Yeung Chan

Paperback: 176 pages ; Dimensions (in inches): 0.50 x 10.14 x 8.52
Publisher: Lark Books; 1st edition (August 2002)
ISBN: 1579902790

Do you love woodworking---but balk at the thought of hand-chiseling a mortise and tenon joint? Then these 100 marvelous alternatives are just right for you: joints to cut using power tools alone, simplifying the process and guaranteeing superb results every time. An experienced woodworker and teacher takes you through all the common woodshop tools-table saw, bandsaw, router, mortising machine, biscuit jointer, drill press, and plenty of shop-made jigs--showing how each can form perfect, tight-fitting joints. And, don't worry if you lack a particular piece of equipment: the same joint cut by a bandsaw can be done with a router or other tool. Hundreds of color photos and illustrations detail how to set up the necessary machines and accessories for everything from simple dowels, splines, or biscuits to more challenging miters, rabbets, tongue-and-groove, mortise-and-tenon, dovetails, and box joints. You'll have classic joints for all your projects in half the time of doing them by hand.


Jim Tolpin's Table Saw Magic
by Jim Tolpin

Paperback: 128 pages ; Dimensions (in inches): 0.42 x 11.02 x 8.55
Publisher: Popular Woodworking Books; (July 1999)
ISBN: 1558705120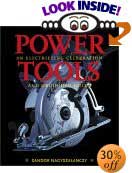 Power Tools: An Electrifying Celebration and Grounded Guide
by Sandor Nagyszalanczy

Hardcover: 272 pages ; Dimensions (in inches): 0.94 x 11.22 x 9.68
Publisher: Taunton Pr; (November 2001)
ISBN: 1561584274

Tool junkies are sure to fall in love with this survey of power tools from a former editor of Fine Woodworking magazine. Detailing both portable and stationary power tools, this work covers not their uses but instead their history, design, accessories, recent development, and a prototypical "classic" model using the beautiful color photographs for which Taunton is known. Tool collectors and those considering tool purchases will find this title invaluable. A coffee-table book for craftspersons, it is recommended for public libraries.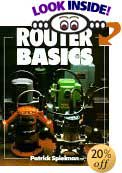 Router Basics
by Patrick Spielman

Paperback: 128 pages ; Dimensions (in inches): 0.38 x 10.05 x 7.87
Publisher: Sterling Publications; (October 1990)
ISBN: 080697222X

Here's the best beginner's book anywhere for this great "workshop-in-one" tool. How-it-works descriptions cover all major feaures, including blades, bits and accessories. Hundreds of tips, backed by over 200 closeup step-by-step photos and drawings. " A good starter volume."--Booklist.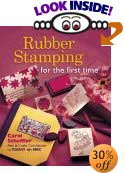 Rubber Stamping for the First Time
by Carol Scheffler

Hardcover: 112 pages ; Dimensions (in inches): 0.56 x 10.32 x 8.85
Publisher: Sterling Publications; (September 1999)
ISBN: 0806959452

For every first-time rubber stamp crafter, this is the book you'll need! If you've admired the great look of rubber stamps, this filled-to-the-brim guide, by the crafts contributor to the Today Show, reveals how to do it all. With 40 projects and 27 techniques specifically geared to the beginner, it covers equipment; establishing a workspace; using inks, markers, paints, and colored pencils; producing a clean, non-smudged image; stamping on non-paper surfaces; embossing; designing backgrounds and borders; and achieving multicolored effects.


Step-by-Step Knifemaking: You Can Do It!
by David Boye (Photographer), Franklin Avery (Photographer)

Paperback: 274 pages ; Dimensions (in inches): 0.71 x 8.64 x 7.84
Publisher: Boye Knives; Revised edition (June 2000)
ISBN: 0615116590

Boye takes readers through each stage in the design and fabrication of a knife, showing how the process is completed, from cutting the blank from new or used steel to tempering the blade to grinding, polishing, and coating to the addition of the handle.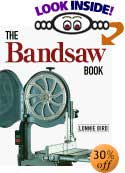 The Bandsaw Book
by Lonnie Bird

Paperback: 208 pages ; Dimensions (in inches): 0.47 x 9.93 x 7.96
Publisher: Taunton Pr; (October 1999)
ISBN: 1561582891

The bandsaw is one of the most widely used woodworking tools, found in 3 out 4 home and professional workshops. Although deceptively simple - a steel blade rotating around two rubber-clad wheels, the bandsaw does its best work when it's tuned properly. Unfortunately, most owner's manuals provided by tool manufacturers are difficult to understand, and the drawings and photos are unclear.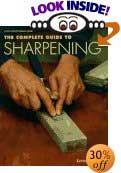 The Complete Guide to Sharpening
by Leonard Lee

Paperback: ; Dimensions (in inches): 0.60 x 10.99 x 8.53
Publisher: Taunton Pr; (December 1996)
ISBN: 1561581259

Lee, a well-known tool manufacturer, covers the practical and technical information to sharpen tools quickly, efficiently and safely. Descriptive photos, clear line drawings and step-by-step instructions show exactly how to improve the performance and safety of any cutting tool. 255 photos.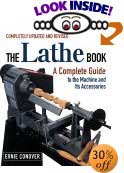 The Lathe Book: A Complete Guide to the Machine and Its Accessories
by Ernie Conover

Paperback: 208 pages ; Dimensions (in inches): 0.45 x 9.99 x 7.93
Publisher: Taunton Pr; 2nd edition (April 14, 2001)
ISBN: 1561584169

In this new edition incorporating the latest innovations, experienced woodshop instructor Ernie Conover shows how to choose and set up the proper lathe, and tune and maintain it for the best performance. He outlines basic techniques needed to produce turned furniture parts and suggests quick, practical ways to duplicate parts.


The New Scroll Saw Handbook
by Patrick Spielman

Paperback: 352 pages ; Dimensions (in inches): 0.88 x 9.98 x 8.10
Publisher: Sterling Publications; (September 2002)
ISBN: 0806978775

The world's leading scroll saw expert offers a masterful, comprehensive reference that covers all significant topics on the saw's equipment, materials, and artistry, from time-honored methods to critiques of the latest machines and accessories. A bestseller in its classic first edition for 15 years, the guide's massive technical updates and new sections make an even more valuable contribution, with simplified instructions on ways to apply the latest innovations and how to make the best projects from the past even better. Each scroll saw and accessory gets the strict Spielman scrutiny, as do most cutting techniques from stack and thick wood to thin and small stock; compound and bevel sawing, inlay, marquetry, incise carving, fretwork, appliqu's and overlays, joinery, segmentation, and intarsia. Spielman offers the latest approaches to working with plastics, metals, paper, and other materials, plus illustrated guides to various projects, including vessels, baskets, toys, puzzles, logscapes, and pierced portraits.


The Table Saw Book
by Kelly Mehler

Paperback: 208 pages ; Dimensions (in inches): 0.51 x 10.12 x 8.04
Publisher: Taunton Pr; 2nd edition (January 2003)
ISBN: 1561584266

The table saw is the cornerstone of any woodworking shop, and this book in its first edition quickly became the standard reference. Written by the recognized authority on the subject, the book explains how to choose the proper saw and use it safely, and covers all basic operations including ripping, crosscutting, and handling large stock. Included are discussions of innovations in table saw design and new accessories. With almost 300 color photos, this totally revised version of The Table Saw Book is the top reference on the subject.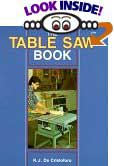 The Table Saw Book
by Richard J. de Cristoforo

Paperback: 342 pages ; Dimensions (in inches): 0.77 x 9.23 x 7.40
Publisher: McGraw-Hill Professional; (December 1, 1987)
ISBN: 0830627898

Presents a complete picture of the table saw's capabilities and provides practical, creative instructions in its use that will be valuable to beginning and experienced woodworkers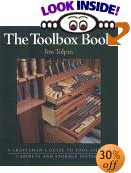 The Toolbox Book
by Jim Tolpin

Paperback: 208 pages ; Dimensions (in inches): 0.60 x 10.71 x 9.20
Publisher: Taunton Pr; (September 1998)
ISBN: 1561582727

Winner of the 1996 Stanley Award for best how-to book. "Ideas and inspiration galore".--"Wooden Boat Review". 190 color photos. 100 drawings.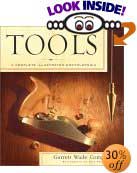 Tools: A Complete Illustrated Encyclopedia
by Mark Duginske (Editor), Garrett Wade, Garrett Wade, Dick Frank (Photographer)

Hardcover: 256 pages ; Dimensions (in inches): 1.01 x 10.51 x 9.40
Publisher: Simon & Schuster; (September 25, 2001)
ISBN: 0743213483

A spectacular visual dictionary of more than 450 beautifully photographed tools, this gorgeous volume presents a dazzling range, from the trusty and familiar hammer and screwdriver to the very handsome ebony or rosewood marking gauge that one simply must have to make the most precise marks of where to cut...and let's not forget the crosscut saws, ripsaws, tenon saws, dovetail saws, slotting saws, veneer saws, frame saws, bucksaws, bow saws, coping saws, and jeweler's saws needed to do the actual cutting.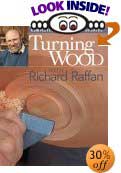 Turning Wood With Richard Raffan
by Richard Raffan

Paperback: 208 pages ; Dimensions (in inches): 0.54 x 10.84 x 8.52
Publisher: Taunton Pr; Revised and Updated edition (March 17, 2001)
ISBN: 1561584177

In this revision of a 1983 book that sold nearly 100,000 copies, chapter one is a brief guide to the lathe that explains its standard parts. Attachments for the lathe--drives, faceplates, and chucks--are described in chapter two, and cutting tools, such as gouges, scrapers, chisels, and parting tools, in chapter three. Chapters follow on safety precautions; measuring diameters, depths, and wall thickness; centerwork and facework; and finishing surfaces. Problems, symptoms, and remedies are discussed in one appendix, and selecting and seasoning wood in another. The useful paperback contains 355 color photographs and 69 black-and-white line drawings. George Cohen