Home Improvement - Hand Tools Book Review:


Hand Tools

Choosing & Using Hand Tools
by Andy Rae

Paperback: 208 pages ; Dimensions (in inches): 0.68 x 10.02 x 8.36
Publisher: Lark Books; 1st edition (May 2002)
ISBN: 1579902944

"...offers a wealth of information about the selection, care, and use of nearly every kind of hand tool: vices and workbenches, marking and measuring tools, and hammers, screwdrivers, drills, files, chisels, planes, and saws....instructions are included...each entry is profusely illustrated with color photos....will prove to be a valuable resource for woodworkers and should be part of public library woodcraft collections."--Library Journal.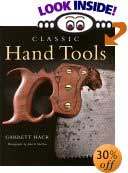 Classic Hand Tools
by Garrett Hack, John S. Sheldon (Photographer)

Hardcover: 224 pages ; Dimensions (in inches): 0.77 x 11.20 x 9.31
Publisher: Taunton Pr; (October 1999)
ISBN: 1561582735

A professional furniture maker and tool collector celebrates the rich heritage of classic hand tools in words and pictures. Chapters discuss how hand tools cut; workshops, benches, and clamps; the different tools and the use and maintenance of each (separate chapters for each type, e.g. marking and measuring tools, striking tools, chisels, planes); making and restoring hand tools; and buying used handtools. Sidebars offer historical facts about the carpentry and woodworking trades as well as advice and helpful tips.


Encyclopedia of Antique Tools & Machinery
by C. H. Wendel

Paperback: 416 pages ; Dimensions (in inches): 0.55 x 11.00 x 8.56
Publisher: Krause Publications; (November 2001)
ISBN: 0873416074

The days of old will come alive as readers take a nostalgic look at the antique tools and machinery our ancestors used to survive, succeed and develop this country. Collectors and historians will love revisiting the past through the pages of this new book.

Essential Hand Tools: 26 Tools to Renovate and Repair Your Home
by Norm Abram (Editor), The Editors of This Old House Magazine

Paperback: 104 pages ; Dimensions (in inches): 0.50 x 9.75 x 8.75
Publisher: This Old House Books; (January 15, 2000)
ISBN: 0966675304

Whether you're a home repair novice or a veteran renovator searching for new tricks of the trade - you'll find invaluable advice and expert knowledge about hand tools straight from master carpenter Norm Abram and contractor Tom Silva in this full-color tool book from the editors of This Old House Magazine.


Hand Tools: Their Ways and Workings
by Aldren A. Watson

Paperback: 416 pages ; Dimensions (in inches): 1.01 x 9.98 x 7.20
Publisher: W.W. Norton & Company; (April 2002)
ISBN: 0393322769

A longtime woodworker's illustrated guide to the tools of the trade and how to use them. For those who would like to have the benefit of a woodworker's extensive experience with hand tools, this is the book to own. Crammed with practical information, it is the next best thing to looking over a craftsman's shoulder as he works with his tools, asking questions and getting straight answers in plain language, seeing how each tool is held and manipulated to get the best work out of it.

Keeping the Cutting Edge: Setting and Sharpening Hand and Power Saws
by Harold H. Payson

Paperback: ; Dimensions (in inches): 0.18 x 10.90 x 8.24
Publisher: WoodenBoat Publications; (February 1988)
ISBN: 0937822027

A valuable manual for all woodworkers, you will learn how to sharpen and maintain all types of blades -- handsaws, bow saws, dado acts, bandsaws, and more.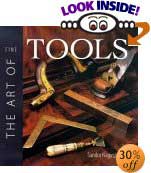 The Art of Fine Tools
by Sandor Nagyszalanczy

Hardcover: 240 pages ; Dimensions (in inches): 0.79 x 10.33 x 10.29
Publisher: Taunton Pr; (October 1998)
ISBN: 1561582638

Delight in this remarkable collection of 125 of the most unique woodworking tools from around the world. This book will inspire and amaze from the first to the last page. It features tools of ancient significance, remarkable precision, and tools with incredible artistic decoration and design. Over 300 color photos depict the beauty and the classic designs of these tools.

The Complete Guide to Sharpening
by Leonard Lee

Paperback: ; Dimensions (in inches): 0.60 x 10.99 x 8.53
Publisher: Taunton Pr; (December 1996)
ISBN: 1561581259

Lee, a well-known tool manufacturer, covers the practical and technical information to sharpen tools quickly, efficiently and safely. Descriptive photos, clear line drawings and step-by-step instructions show exactly how to improve the performance and safety of any cutting tool. 255 photos.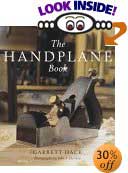 The Handplane Book
by Garrett Hack, John S. Sheldon (Photographer)

Paperback: 272 pages ; Dimensions (in inches): 0.64 x 10.99 x 9.23
Publisher: Taunton Pr; (October 1999)
ISBN: 1561583170

More than any tool, the handplane has come to symbolize fine craftsmanship. Hand-planes evoke the romance of an earlier era when planes performed countless woodworking tasks, from preparing stock to shaping moldings. Planes from that time and into the early 20th cen-tury were often exquisitely made and speak eloquently of the respect and love craftsmen had for their tools. In The Handplane Book, Garrett Hack reveals the rich heritage of this classic tool by presenting a treasure trove of information about handplanes.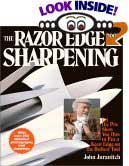 The Razor Edge Book of Sharpening
by John Juranitch

Paperback: 143 pages
Publisher: Razor Edge Systems, Inc.; (July 5, 2000)
ISBN: 096660590X

Universally recognized as "The Bible of The Cutting Edge", this book belongs in the library of anyone who is serious about sharpening. Written by Guinness world record holder John Juranitch, it contains all the knowledge and insights gained during his more than 40 years in the sharpening industry. The 145 page book is crammed with photos, illustrations and cutting edge secrets you won't find anywhere else. Its 14 chapters cover topics like how to choose a knife, sharpening theories nad applicaitons, steeling, using a hone and much, much more.
The Woodworker's Guide to Hand Tools
by Peter Korn

Paperback: 201 pages ; Dimensions (in inches): 0.53 x 10.00 x 8.02
Publisher: Taunton Pr; (May 1998)
ISBN: 1561582166

With power tools being hot and sexy and, no doubt, hotly desired, it is refreshing to see a book about tools that are literally unplugged. Korn relays just about everything about the tools to use when the only form of power at hand is elbow grease. Returning to the days before the electric table saw and router may be desirable for some, yet if they want to go really sans electric, they must be willing to search seriously for some of the tools Korn discusses and to put out, too, for the likes of the chisels he presents, which, made in Japan, aren't exactly cheap (price tags can exceed three figures) but, perhaps, are geared more to the collector than the craftsperson.


Woodworker's Hand Tools: An Essential Guide
by Rick Peters

Paperback: 192 pages ; Dimensions (in inches): 0.66 x 10.08 x 8.67
Publisher: Sterling Publications; (October 2001)
ISBN: 0806966610

People who use hand tools are a special breed, respecting and even revering what for others are things of the past. If you're a woodworker who understands that fine hand-tooled qualities are more valuable than ever, and that handmade works are becoming harder to find, you'll enjoy the fact-filled guide to getting the most from your shop. Hundreds of tools get expert coverage, accompanied by charts, photos, and sidebar features.