Home Improvement - Heating, Ventilation & Air Conditioning Book Review:


Heating, Ventilation & Air Conditioning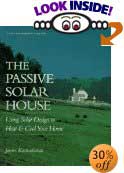 The Passive Solar House (Real Goods Independent Living Books)
by James Kachadorian

Paperback: 220 pages ; Dimensions (in inches): 0.63 x 9.96 x 8.01
Publisher: Chelsea Green Pub Co; (June 1997)
ISBN: 0930031970

Card catalog description: This book offers a technique for building homes that heat and cool themselves in a wide range of different climates, using ordinary building materials available anywhere and with methods familiar to all building contractors and many do-it-yourselfers. A formerly patented design for author James Kachadorian's Solar Slab heat exchanger is now available for the use of anyone motivated by the desire to build a house that needs a backup furnace or air conditioner rarely if ever. This is a building book for the next century.


Air Conditioning and Refrigeration Troubleshooting Handbook
by Billy C. Langley, William C. Langley

Hardcover: 350 pages ; Dimensions (in inches): 1.25 x 9.75 x 8.00
Publisher: Prentice Hall; 2nd edition (August 15, 2002)
ISBN: 0135787416

This handbook identifies malfunctions that occur in air conditioning and refrigeration equipment and how to fix them. Separate chapters review mechanical components, electrical circuits, standard service procedures, wiring diagrams, and safety procedures. Originally published in 1980, the second edition adds procedures for handling refrigerants as required by the EPA.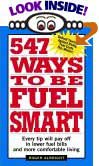 547 Ways to Be Fuel Smart
by Roger Albright

Paperback: 128 pages ; Dimensions (in inches): 0.41 x 8.98 x 6.01
Publisher: Storey Books; (November 15, 2000)
ISBN: 1580173691

Is your home the enemy of your budget and the secret ally of your fuel supplier? Fuel conservation does not have to equal discomfort. Learn how to stay warm and keep your fuel budget at or below last year's level with the 547 money- and energy-saving tips in this book. For example, set your thermostat back just one degree and save. Clean your furnace and cut your heating bills by up to 10%. Thorough insulation can save up to 50% on winter fuel bills...