Home Improvement - Plumbing & Household Automation Book Review:


Plumbing & Household Automation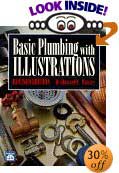 Basic Plumbing With Illustrations
by Howard C. Massey

Paperback: 384 pages ; Dimensions (in inches): 0.92 x 10.92 x 8.44
Publisher: Craftsman Book Co; Revised edition (September 1994)
ISBN: 0934041997

This revised edition offers up-to-date instructions for installing code-approved plumbing in residential and light commercial buildings. Coverage includes fundamentals such as planning and sizing, installation, common layout, and code requirements, plus information on maintenance and repair of drain/waste/vent systems, septic tanks, hot water systems, and swimming pools. Includes study questions and numerous b&w diagrams.


Code Check Plumbing: A Field Guide to the Plumbing Codes (Code Check: Plumbing, 1st Ed)
by Redwood Kardon, Michael Casey, Douglasy Hansen, Paddy Morrissey (Illustrator), Jeff Hutcher

Spiral-bound: 32 pages ; Dimensions (in inches): 0.42 x 8.53 x 11.14
Publisher: Taunton Pr; (September 2000)
ISBN: 1561584096

Clear explanations of plumbing codes are accompanied by the reasons behind them. Text and drawings reflect the new International Residential Code requirements for plumbing. The spiral-bound Code Check series, with durable laminated pages, is designed to be used on-site for quick reference, and is endorsed by the International Conference of Building Officials (ICBO).

Estimator's Piping Man-Hour Manual (Estimator's Man-Hour Library)
by John S. Page

Plastic Comb: 440 pages ; Dimensions (in inches): 0.73 x 9.14 x 6.28
Publisher: Gulf Professional Publishing Company; 5th edition (July 1999)
ISBN: 0884152596

In addition to the solid estimating data this manual has provided for years, this new edition is expanded and updated to include installation of pneumatic mechanical instrumentation, which is used in monitoring various process systems.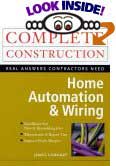 Home Automation & Wiring
by James Gerhart

Paperback: 322 pages ; Dimensions (in inches): 0.89 x 9.16 x 7.37
Publisher: McGraw-Hill/TAB Electronics; (March 31, 1999)
ISBN: 0070246742

Home Automation and Wiring is an all-in-one, planning-and-how-to kit for creating dream homes of the future - not 5 years from now, not 10 years from now, but today. It shows you how to: Compare the hottest technolgies, using this book's lists, descriptions, and evaluations - from plug-and-play to custom designs. Add Interoperability, infrared, and radio systems. Configure and install wiring and connections. Create an advanced plumbing system, with automation, temperature-balancing, maximal efficiency, spas and pools, and automated watering of indoor and outdoor plants. Automate heat, air conditioning, and ventilation for energy savings and comfort. Design and install top-of-the-line communications - phones, intercoms, networks, and more. Create exciting home entertainment systems. Build cutting-edge security into your homes. Design stunning, energy-efficient automated lighting. And market these new wares to an eagerly waiting public.

Plumber's Handbook
by Howard C. Massey

Paperback: 352 pages ; Dimensions (in inches): 0.89 x 10.86 x 8.42
Publisher: Craftsman Book Co; Revised edition (May 1998)
ISBN: 1572180560

So many technical books paint their subject with such broad brush strokes that, after reading the book, the reader is left to discover for themselves (as in "the hard way") what necessary detail was omitted. Not this book. It's complete, well organized, well indexed, and riddled with excellent photographs and illustrations.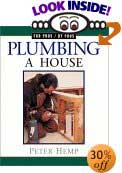 Plumbing a House (For Pros by Pros Series)
by Peter Hemp

Paperback: 215 pages ; Dimensions (in inches): 0.54 x 10.06 x 7.88
Publisher: Taunton Pr; Reissue edition (November 2001)
ISBN: 1561583332

Master plumber Peter Hemp explains in step-by-step sequence how to create (for both new and remodeled homes) plumbing systems that function efficiently and withstand the rigors of time. For both homeowners and professionals, he shows how to design, size, and install pipes using a variety of standard materials and tools. "No-nonsense, in-depth explanations and marvelously clear illustrations." — Booklist


The Complete Guide to Home Plumbing (Black & Decker Home Improvement Library)
by The Editors of Creative Publishing international

Paperback: 288 pages ; Dimensions (in inches): 0.58 x 10.80 x 8.24
Publisher: Creative Publishing International; (April 1, 2001)
ISBN: 0865734283

This complete volume shows beginning, amateur and advanced to-it-yourselfers everything they need to know about home plumbing. It includes complete how-to information on basic skills, major renovation, and the installation of all-new plumbing systems - the only consumer book to cover the subject matter this comprehensively. DIY plumbing offers the best cost-savings of any home improvement project. Homeowners who perform their own plumbing repairs and installation using this book can easily save hundreds or even thousands of dollars on major projects.


The New Independent Home: People and Houses That Harvest the Sun
by Michael Potts

Paperback: 350 pages ; Dimensions (in inches): 0.91 x 9.83 x 8.04
Publisher: Chelsea Green Pub Co; (October 1999)
ISBN: 1890132144

"The New Independent Home" is a cornucopia of good information and thought provoking discussion. A thoroughly enjoyable read, I found myself (currently in the throws of re-evaluating where and how my family and I live) unable to put this book down. The author covers not just the technology of independent homes; there is extensive discussion of the whole sustainable living philosophy of independent home dwellers. The numerous interviews with folks actually living in these homes, many of them off-the-grid even when that is not a necessity, add a very real dimension to the author's presentation.
The Pipe Fitter's and Pipe Welder's Handbook
by Thomas W. Frankland, Thomas Franklin

Paperback: 194 pages ; Dimensions (in inches): 0.54 x 3.73 x 5.43
Publisher: Glencoe McGraw Hill; Revised edition (May 1984)
ISBN: 0028025008

Basic information on solving the difficult problems encountered in this line of work. Pocket size. Illustrated with detailed diagrams.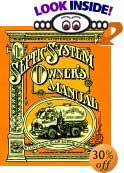 The Septic System Owner's Manual
by Lloyd Kahn, Blair Allen, Julie Jones, Peter Aschwanden (Illustrator)

Paperback: 192 pages ; Dimensions (in inches): 0.50 x 10.02 x 8.09
Publisher: Shelter Pubns; (January 2000)
ISBN: 093607020X

This book is for the 60 million people in the U.S. whose homes have septic systems. It describes a basic gravity-flow septic system including the tank and the drainfield. It will tell you a bit about soil and the ability of microorganisms to purify water-borne pathogens.