Home Improvement - Decks & Patios Book Review:


Decks & Patios

Building Decks (Black and Decker Home Improvement Library)

Paperback: 128 pages ; Dimensions (in inches): 0.33 x 10.76 x 8.27
Publisher: Creative Publishing International; (August 1990)
ISBN: 0865737096

More than just an idea book, Buiding Decks includes how-to information on actual deck construction. This best-selling title from the popular Black and Decker Home Improvement Library series offers a variety of styles and easy-to-follow guidelines for building.


Building Porches and Decks (For Pros by Pros Series)
by Fine Homebuilding (Editor)

Paperback: 160 pages ; Dimensions (in inches): 3.83 x 11.02 x 11.89
Publisher: Taunton Pr; 2nd edition (February 2003)
ISBN: 1561585394

The For Pros By Pros titles are compilations of articles from Fine Homebuilding magazine, selected by the editors of the magazine and organized by subject. New articles from recent issues of the magazine have been added to this edition of Building Porches and Decks. Updated and redesigned throughout, this book gives builders the very best and current information.


Complete Deck Book

Paperback: 272 pages ; Dimensions (in inches): 0.75 x 11.00 x 8.50
Publisher: Sunset Books; (January 1996)
ISBN: 0376010878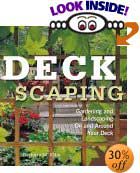 Deckscaping: Gardening and Landscaping on and Around Your Deck
by Barbara W. Ellis, Catriona Tudor Erler

Paperback: 176 pages ; Dimensions (in inches): 0.57 x 10.04 x 9.28
Publisher: Storey Books; (January 1, 2002)
ISBN: 1580174086

Decks are popular in North American landscapes because they serve as outdoor sanctuaries. They are in the back yard, where life is quiet and less hectic. The deck is the perfect place to read the Sunday paper, listen to a ballgame, or entertain when the weather's nice. But a large, flat expanse of deck isn't all that exciting. Often, decks look bare and uninviting and can take up valuable gardening space.


Deckstyle: Design, Create and Enjoy Your Deck
by Joanna Smith (Editor)

Hardcover: 256 pages
Publisher: Thunder Bay Press; (April 2003)
ISBN: 1571458034

Joanna Smith offers creative ideas and foolproof techniques for a whole new approach to transforming a deck into an outdoor haven with indoor personality, making this space one of the most attractive areas of the home landscape. Landscaping and planting techniques make the deck seem to be one with the garden: containers bring flowers, herbs, and vegetables onto the deck, while trellises and pergolas covered with climbing vines add privacy, structure, and shade. This book is fully colored throughout and has everything needed to turn a bland area into a delightful, usable space that seamlessly joins indoor decor with garden landscape.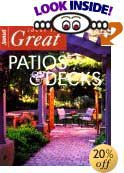 Ideas for Great Patios and Decks (Ideas for Great)
by Scott Atkinson (Editor), Sunset Books

Paperback: 112 pages ; Dimensions (in inches): 0.19 x 10.76 x 8.26
Publisher: Sunset Pub Co; 2nd edition (January 2000)
ISBN: 0376014091

Ever-popular outdoor building projects are the focus of this guide, along with a detailed planning primer, an idea-generated photo gallery, a shopper's guide to materials, deck and patio profiles, brick-laying patterns, and ideas for garden pools and fountains.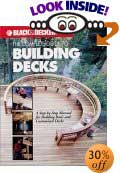 The Complete Guide to Building Decks (Black & Decker Home Improvement Library)
by The Editors of Creative Publishing international

Paperback: 304 pages ; Dimensions (in inches): 0.69 x 10.81 x 8.33
Publisher: Creative Publishing International; Revised edition (February 1, 2001)
ISBN: 0865734275

This book is a substantive revision of America's best-selling deck-building book. At 304 pages and with more than 650 photos, this book is an all-inclusive source of tips, techniques, and instructions for building decks. In this important revision, construction techniques have been altered to reflect latest building code requirements and building practices, and additional projects have been added.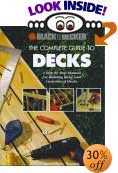 The Complete Guide to Decks: A Step-By-Step Manual for Building Basic and Advanced Decks

Paperback: 288 pages ; Dimensions (in inches): 0.78 x 9.78 x 8.31
Publisher: Creative Publishing International; (February 1999)
ISBN: 0865731810

A comprehensive guide to building your basic or advanced deck. Save time and money by learning how to do-it-yourself. Features great how-to photos and concise instructions that are the hallmark of the Black & Decker line of home improvement books.