Home Improvement - Masonry Book Review:


Masonry

Black & Decker: The Complete Guide to Home Masonry (Black & Decker Home Improvement Library)
by Cpi (Editor), The Home Improvement Editors of CPi

Paperback: 288 pages ; Dimensions (in inches): 0.67 x 10.77 x 8.25
Publisher: Creative Publishing International; 1 edition (March 1, 2000)
ISBN: 0865735921

The Complete Guide to Home Masonry is the most comprehensive and useful guide to masonry for today's do-it-yourself homeowner. It even includes natural stone-a material absent from many competitive titles. This book is the only resource on the market that provides clear step-by-step instructions and color photographs for building with the types of masonry materials that are in demand today, including stone veneer, glass block, concrete block, poured concrete, stucco, and brick.


Bricklaying
by Peter Cartwright

Paperback: 320 pages ; Dimensions (in inches): 0.88 x 9.20 x 7.38
Publisher: McGraw-Hill Professional; (March 22, 2002)
ISBN: 0071392394

Whether you're a homeowner wanting to do your own repairs, a trade apprentice seeking to sharpen your skills, or a veteran craftsman or contractor with years of experience, you'll turn to this complete guide to bricklaying again and again. There is no more comprehensive or up-to-date reference available on the subject.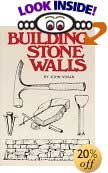 Building Stone Walls
by John Vivian

Paperback: 112 pages ; Dimensions (in inches): 0.39 x 8.99 x 6.00
Publisher: Storey Books; (September 1986)
ISBN: 0882660748

Well, here it is: Basic tools, basic techniques, illustrations and photographs, and all the planning and safety instructions you will need to build a variety of stone walls. This is a book that can help you beautify your back yard with the grace and texture of natural stone, or launch you on a career of reconstructing the Inca Empire or building a second Great Wall of China if you get carried away. Up to you...

Building with Masonry: Brick, Block & Concrete
by Dick Kreh, Richard T. Kreh

Hardcover: 192 pages ; Dimensions (in inches): 0.69 x 10.33 x 8.23
Publisher: Taunton Pr; (November 1998)
ISBN: 156158228X

With this specialty book specifically for those about to embark on a do-it-yourself masonry repair or building project, Kreh, a recognized third-generation master mason, provides all the basics on tools and materials, estimating materials needed for any project, descriptions and diagrams of bond patterns and wall types, fundamentals of laying brick and block, and clear, useful information on masonry repair and restoration for preexisting work. Chimneys, retaining walls, foundations, decorative walks and planters, steps, and all varieties of construction masonry are covered here with excellent diagrams; explanations of terminology, tools, and materials; and photographs that vividly illustrate some of the finer points of masonry work.


Irish Stone Walls: History Building Conservation
by Pat McAfee, Patrick McAfee

Hardcover: 176 pages ; Dimensions (in inches): 0.63 x 9.51 x 6.34
Publisher: The O'Brien Press; (November 2000)
ISBN: 0862784786

The Irish countryside is a patchwork of over 250,000 miles of stone wall. Built from local stone according to the style of each region-such as dry stone associated with the West and the Mourne mountains-these walls are an intrinsic part of the landscape. This unique guide covers the history of this ancient tradition, giving illustrated examples and step-by-step instructions on using lime mortars and on constructing, conserving, and repairing stone walls of all types-whether dry stone or mortar. This is an ideal book for amateur and expert stoneworkers, conservationists, architects, and people who want to know the tradition of stone walling.

Making Concrete Garden Ornaments
by Sherri Warner Hunter

Paperback: 144 pages ; Dimensions (in inches): 0.42 x 9.98 x 8.50
Publisher: Lark Books; (May 2002)
ISBN: 1579903185

Strong, versatile, and amazingly easy to work with, concrete is the ideal medium for outdoor art and long-lasting garden projects. And it doesn't cost a lot or require special equipment; everything you need is right at the local home improvement center. A celebrated teacher has gathered the tried-and-true techniques used by sculptors and folk artists, and tailored them perfectly for low-tech surroundings and personal expression. Work with molds; form over armatures; model or carve with concrete; take advantage of technical advances to develop lighter, stronger structures; and treat concrete surfaces with mosaics, embedded objects, incising, and coloring. For dazzling outdoor embellishments, craft Garden Critter Stepping Stones, a Birdbath, Little Lady Fountain, and a jazzy border. Every project will open up new creative horizons!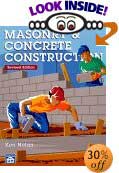 Masonry & Concrete Construction
by Kenneth J. Nolan, Ken Nolan

Paperback: 302 pages ; Dimensions (in inches): 0.76 x 10.86 x 8.41
Publisher: Craftsman Book Co; Revised edition (December 1997)
ISBN: 1572180447


Masonry Wall Construction
by A. W. Hendry, F. M. Khalaf

Paperback: 116 pages ; Dimensions (in inches): 0.26 x 9.68 x 6.87
Publisher: Routledge mot E F & N Spon; (November 2000)
ISBN: 0415232821

Drawing on a wealth of experience the authors present an essential and comprehensive coverage of masonry wall construction for students of civil and structural engineering, architecture, building, surveying and related courses. It will also be a useful guide for practising engineers and other professionals who require a general knowledge of masonry construction.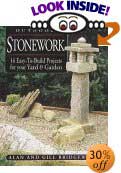 Outdoor Stonework: 16 Easy-to-Build Projects For Your Yard and Garden
by Alan Bridgewater, Gill Bridgewater

Paperback: 128 pages ; Dimensions (in inches): 0.37 x 10.99 x 8.52
Publisher: Storey Books; (January 10, 2001)
ISBN: 1580173330

Stonework gives a yard a sense of permanence and distinction. Authors Alan and Gill Bridgewater show readers how to bring the beauty of stone into their gardens with simple but elegant natural features, unique walls, attractive paving, and much more.

Setting Tile (Fine Homebuilding)
by Michael Byrne

Paperback: 244 pages ; Dimensions (in inches): 0.57 x 10.02 x 8.02
Publisher: Taunton Pr; Revised and Updated edition (July 1995)
ISBN: 1561580805


Amazon.com: Michael Byrne's Setting Tile is packed with more than enough information for those thinking of taking on a tile job in their home. It is so detailed and thorough that it serves as a Tile 101 introduction for those interested in entering the trade full-time or simply improving their skills and knowledge. Byrne opens this revised and updated version of his previous effort with a brief description of how tile was made 6,000 years ago.

The Forgotten Art of Building a Good Fireplace
by Vrest Orton, Austin Stevens (Illustrator)

Paperback: 64 pages ; Dimensions (in inches): 0.21 x 9.02 x 6.01
Publisher: Alan C Hood & Co; (May 2000)
ISBN: 0911469176

Vrest Orton loved the five fireplaces in his 1828 Federal brick house in Weston, Vermont because of their architectural beauty and because of the enormous amount of heat they produced without letting smoke into the rooms. In his quest to understand why his old fireplaces worked so much better than most "modern" versions, Orton discovered the work of Count Rumford, the eighteenth-century genius who brought fireplace design to an unprecedented level of efficiency.

The Rammed Earth House (Real Goods Independent Living Book)
by David Easton, Cynthia Wright (Photographer), David Eaton

Paperback: 306 pages ; Dimensions (in inches): 0.89 x 9.98 x 8.02
Publisher: Chelsea Green Pub Co; (April 1996)
ISBN: 0930031792

The beauty and grace of rammed earth construction is described in fascinating detail by David Easton. The photographs of different structures, both modern and ancient, by Cynthia Wright, create a breathtaking glimpse into a building technique that is as old as human history, but exactly suitable for today's resource-conscious and environmentally friendly building needs. Trees may be getting a bit scarce these days, but there's no current shortage of dirt, the main component of rammed earth homes. From such a prosaic material, gold has been spun in these timeless, graceful, and nearly indestructible homes and buildings.