Home Improvement - Cleaning, Caretaking & Relocating Book Review:


Cleaning, Caretaking & Relocating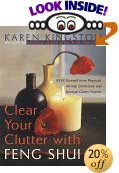 Clear Your Clutter With Feng Shui
by Karen Kingston

Paperback: 179 pages ; Dimensions (in inches): 0.52 x 7.27 x 5.54
Publisher: Broadway Books; (May 4, 1999)
ISBN: 0767903595

Clutter is stuck energy that has far-reaching effects. Karen explains how dull, stagnant frequencies collect around clutter, clogging the flow of energy in your home and causing you to feel stuck in your life. Karen guides you through the process, incorporating Feng Shui teachings and ancient wisdom.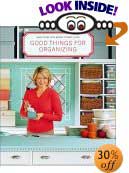 Good Things for Organizing
by Martha Stewart

Paperback: 144 pages ; Dimensions (in inches): 0.49 x 10.89 x 9.00
Publisher: Three Rivers Press; (March 13, 2001)
ISBN: 0609805940

Who wouldn't like their living space to be more organized? Tapping into the popularity of the "Good Things" column in Martha Stewart Living, Good Things for Organizing provides practical, efficient, and pretty solutions for organizing just about everything, from spools of thread and the silverware drawer to your entire wardrobe and home office.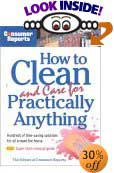 How to Clean and Care for Practically Anything
by Consumer Reports (Editor)

Paperback: 304 pages ; Dimensions (in inches): 0.61 x 9.18 x 6.52
Publisher: Consumer Reports Books; (April 2002)
ISBN: 0890439656

Cleaning doesn't have to be a chore if you know the best and fastest way to get the job done. From the experts you trust at Consumer Reports comes the book that will give you the smartest (lab-tested!) cleaning strategies, plus an at-a-glance stain removal chart that will help you quickly remove the most stubborn stains from almost anything, an A-Z guide for the best way to clean more than 200 household items, an in-depth guide to all of the cleaning appliances and tools you might need, and even recipes for everyday household cleaners.


Making a Home : Housekeeping for Real Life
by Better Homes and Gardens Books (Editor), Linda Hallam (Editor)

Ring-bound: 384 pages ; Dimensions (in inches): 2.26 x 10.32 x 8.74
Publisher: Meredith Books; Ringbound edition (September 2001)
ISBN: 069621203X

Learn to organize, furnish, clean, and enjoy your home by following the timesaving tips and down-to-earth advice in the new book Making a Home: Housekeeping for Real Life, from Better Homes and Gardens®.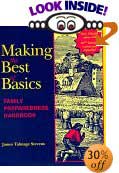 Making the Best of Basics: Family Preparedness Handbook
by James Talmage Stevens

Paperback: 240 pages ; Dimensions (in inches): 0.77 x 10.72 x 8.39
Publisher: Gold Leaf Pr; 10th edition (July 1997)
ISBN: 1882723252

Never mind all the year 2000-type scare scenarios. Just close your eyes for a moment and imagine what would happen if you became ill and couldn't work, or if an earthquake or hurricane or bomb left your community devastated. It happens all the time. When unexpected disasters happen, people who are even a little prepared are much better off than those who have taken their dependence on outside resources for granted. When you imagine the security of not having to worry about going to the store for even a few weeks, a comprehensive storage system begins to make sense.


Messie No More: Understanding and Overcoming the Roadblocks to Being Organized
by Sandra Felton

Paperback: 219 pages ; Dimensions (in inches): 0.58 x 8.50 x 5.56
Publisher: Fleming H Revell Co; 2nd edition (October 2002)
ISBN: 0800758277

Want a neat and orderly home but donít know how to organize? Need to reduce stress and clutter? Would you like to spend less time cleaningóand still have an inviting house?
You can have all of these things, with the help of Sandra Felton, the Organizer Lady! Her foolproof advice on home organization will show you how to become Messie No More.


Organizing Plain and Simple: A Ready Reference Guide With Hundreds Of Solutions to Your Everyday Clutter Challenges
by Donna Smallin

Paperback: 309 pages ; Dimensions (in inches): 0.83 x 9.18 x 7.26
Publisher: Storey Books; (September 2002)
ISBN: 1580174485

Desk drowning in papers? No room for the car in the garage? Santa still sitting on the roof in May? A less-is-more philosophy is great, but we all still have way too much stuff. The home office swallows up whole rooms, as does the family computer station. Then there's the home gym, the TV room, and the playroom, not to mention our collections - books, CDs, toys. Time management experts agree that when the minor things that take up space in the mind are eliminated, there is room to think about the big things. The same goes for the home. The visual clarity that comes from de-cluttering rooms, finances, and time promotes mental clarity, peacefulness, and contemplation. When everything is organized, it is easier to enjoy the meaningful things in life.


Sink Reflections
by Marla Cilley

Paperback: 256 pages ; Dimensions (in inches): 0.82 x 8.96 x 6.02
Publisher: Bantam Doubleday Dell Pub (Trd Pap); (October 1, 2002)
ISBN: 0553382179

Take off with FlyLady! Her down-to-earth writing will help anyone who desires to be lifted free from the chaos and confusion disorder causes.

Steiner's Complete How-To-Move Handbook
by Shari Steiner, Clyde L. Steiner, Lionel Storch (Designer)

Paperback: 346 pages ; Dimensions (in inches): 1.04 x 8.49 x 5.53
Publisher: Independent Information Publications; 2nd edition (May 1, 1999)
ISBN: 0913733148

For the 17 million Americans who move each year, this definitive guide provides complete information about relocating, including the best moving rates, important tax rules, tips about trading or subletting a house, and more. Includes a detailed evaluation chart of the top 20 U.S. locations.


The Queen of Clean Conquers Clutter
by Linda Cobb

Paperback: 192 pages ; Dimensions (in inches): 0.52 x 8.40 x 5.28
Publisher: Pocket Books; (November 26, 2002)
ISBN: 0743428323

Clean-up diva and author Cobb (Talking Dirty with the Queen of Clean, etc.) here focuses on organizing a home and eliminating the unnecessary. Cobb begins by explaining that being a Peaceful Pauline is preferable to being a Harried Harriet. The latter is always running behind schedule, paying overdue video fines and having nothing to eat. "Conquering clutter really does pay off-you'll be pleasantly surprised to find how enjoyable conquering clutter and getting organized can be.